Welcome to the news and events page. Check out all of our upcoming news and events listed below:

Local Firm Has Marine Week Covered
Female-owned True Vision Marketing official licensee of Marine Corps. "Gear"
"Gear" Chagrin Falls-based True Vision Marketing was recently selected by the U.S. Military as a preferred vendor of Marine "Gear" at Cleveland's Marine Week Celebration. Marine Week happens on June 11th – June 17th. True Vision will have a retail tent at three of the ve venues downtown Cleveland: Public Square, Voinovich Park, Gateway Plaza, the Rock and Roll Hall of Fame and ending at Burke Lakefront Airport for the weekend. "Gear" will include United States Marine Corps licensed apparel and souvenirs for a lasting memorable experience. The connection? True Vision sales executive, Cheryl Tewksbury's brother is U.S.M.C. First Sergeant Legg, a native of Brookpark.
True Vision's president and owner, Natalie Remington states, "It was an honorable task going through all of the paper work and communication, we feel fortunate to be chosen as 1 of 5 vendors out of many that applied for this one-time seven day event". Beyond the initial U.S.M.C. licensee process, True Vision Marketing wrote a letter in February 2012 to the Director U.S.M.C. Trademark Oce, located in the Pentagon with initial intentions to participate as a vendor during Marine Week Cleveland. The Marine Corp Trademark Licensing Oce was very selective, and True Vision Marketing was approved as a vendor for Marine Week in April. "We are excited, yet not sure what to expect as far as sales, but know it will be a home run. Many of our local vendor partners are on call for real-time production should we need to replenish inventory," added Remington.
Ms. Remington encourages everyone to make the trip downtown next week to experience a battalion worth of demonstrations, hands-on displays, and showing of the latest weaponry including the impressive Osprey tilt-rotor aircraft. "We are very honored to participate in this unique event, Cleveland will be the Marines only stop in 2012!" commented Remington. "The True Vision team is looking forward to being there to make sure everyone can leave with a t-shirt, hat or souvenir to make the event a lasting memory for all. " A percentage of the proceeds will go back to the U.S.M.C.
In previous years, the Marines have landed in Chicago, St. Louis and Boston. This Marine Week is expected to draw over 150,000 people during its seven days! Marine Week Cleveland is a free event.
True Vision Marketing is a nine year old female-owned marketing rm that specializes in branded promotional merchandise, custom company uniform programs and webstores. The Chagrin Falls company provides products and sourcing services to a growing variety of clients, from local small businesses to national brands such as Great Wolf Resorts™. Marine fans everywhere can visit http://www.truevisionmarketing.com/marines to purchase Marine "Gear" after the event.
For more information, please contact:
Natalie Remington
natalie@truevisionmarketing.com
Cell: 216-509-7157
Oce: 440-708-0576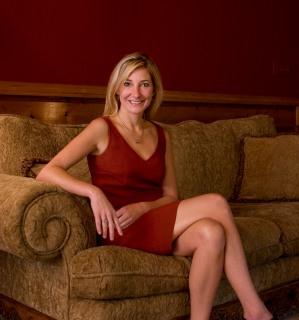 Natalie Remington Featured in COSE Update, Nov '08
True Vision Marketing president, Natalie Remington was featured in the November '08 issue of COSE Update.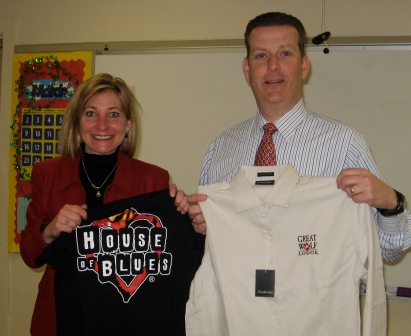 Wickliffe Middle School
True Vision Marketing President, Natalie Remington, speaks during Career Day at Wickliffe Middle School.
LeBron James
A few True Vision staff members hanging with "THE KING"
Rubber Duckie Splash N Dash
True Vision Marketing was a proud sponsor of the Rubber Duckie Splash N Dash event to benefit the Ireland Cancer Center.